Close to Skopje - Yet Another World...
Matka Canyon is a 45 minute drive, and 5 minute uphill walk from Skopje. A small hydroelectric dam has formed a lake in the canyon. There is a restaurant and the possibility of a boat ride. When I saw the boat I was glad I had earned my advanced swimmer's certificate way back when...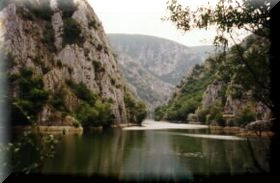 More from Matka...
I visited Matka in July 1998 with a group of students from Eastern Europe. On the left you see them exploring the canyon on foot. Below is the restaurant at the canyon where we sat while awaiting our boatride on the lake. From the tables in front you can see the lake, the cliffs and the small monastery church, Sveti Andreij.