The music festival is held in a small natural amphitheatre near Prilep. It is very uncommercial and authentic. Many of the performers are from the rural areas of Macedonia. Below are some of the musicians. The bagpipe-type instrument is called a "gajda".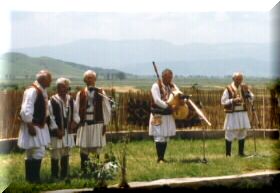 This is a real wedding that takes place in a small town in the mountains near the western Macedonian ski resort of Mavrovo. Couples apply from all over Macedonia to be the bride and groom, but preference is given to those who have connections in the area.
It is done in the style of old country weddings, full of tradition, music and dance. The bride's costume weights 30 kilos! [It's held in mid-July!]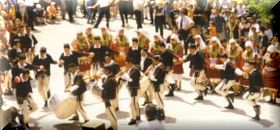 Above left are the men performing the "teshot" or "difficult one." It is very slow - and difficult. A handkerchief is passed along the line of dancers as the dance progresses. It is said to represent the history of Macedonia. Here is the
music
for the dance.
Below is a tapan player.