Introduction
4 Mar 1999 thru 8 Mar 1999
Yurt Trip 99
Here are the crazy ones, who decided on a beautiful day to go risk their lives just for the fun of it. The yurt we went to is at 7700 feet in the heart of Idaho's Rockies. We all had to ski in with our grubs, on a six miles uphill from hell. It was windy and cloudy but luckily, no blizzard. Once at the Yurt, Ou New York city fellow, Eric, was waiting for us with some kind of cherry drink, a warm and cozy fire and good food. Little did I realize that alcohol and altitude are good friends, I was already snoozing about the next horrendous days.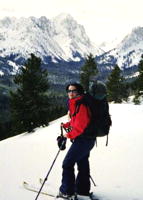 Voici les maniaques de ski qui par une belle journée ensoleillés ont décidé de risquer leur vie juste pour le plaisir de le faire. La Yurt que nous avions choisi se trouve à 7700 pieds d'altitude dans le coeur des Rocheuses de l'Idaho. Pour s'y rendre, nous avons dû skier avec notre équipement et nos vivres sur une distance de 10 kilomètres d'ascente. C'était venteux et ennuagé, heureusement qu'il n'y avait pas de blizzard. Une fois rendus à la Yurt, Eric, un jeun New Yorkais, nous y attendait, un verre de cherry à la main, de la bonne bouffe et un bon feu bien chaud. Un verre de cherry, puis un autre, et tout d'un coup, le sommeil nous a tous enveloppé de sa douce présence.

The Chapters of Skiing in the Idaho Rockies...