Introduction
8 Sep 2002 thru 15 Sep 2002
Selamat Pagi to Malaysia. Welcome to Malaysia. We arrived in Kuala Lampur on Monday morning after a 12 hour plane ride. Considering the length of the journey, the flight on Malaysian Airlines was pretty good. Each passenger had their own TV that showed movies and allowed people to play video games. Jen beat Dan continuously at Tetris. While in London Harry had made arrangements for us to connect with an old friend of his, Dave, who lived in KL and who also happened to be a travel agent. We met Dave at the train station where Dave picked us up and drove us to a hotel in China Town. Dave had found us a good hotel in an amazing location for only 80 ringgit a night ($35 Cdn) which included A/C, TV, a private bathroom and breakfast.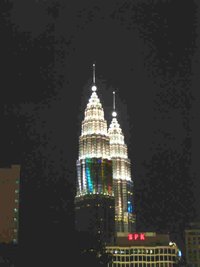 Jen and Dan tried to sleep for a few hours and work off the jet lag. Later in the day, we wondered around China Town and worked our way through the sea of people that were selling everything from knock-off Prada purses to DVD's of movies that have not yet been released. Afterwards Dave picked us up with his wife Gauri and took us out for dinner at their favourite Indian restaurant. The food was great and so was the company. Afterwards Dave and Gauri showed us the city and even drove us through the wealthier part of town. The houses in this area were enormous, with high protective walls and practically no back yards (typically the house took up the whole lot). The evening ended by Dave and Gauri showing us their condo building.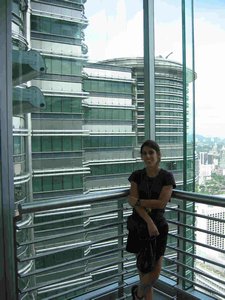 The next day Dan and Jen got up early to visit the Petronas Towers, which are one of the tallest buildings in the world. They are 88 stories high, since 8 is considered a lucky number to the Chinese (Malaysia is about 30% Chinese). We got passes to walk across the bridge on the 41st floor that connects the two buildings. This gave us an amazing view of the city and allowed us to snap a few tourist style pictures.
In the afternoon Dave had arranged for us to go on a "country tour" around the city. This tour took us to the Royal Selangor Pewter Factory where we got to see how pewter was made. Amazingly, every single item was made by hand. Later on, we went to visit the insect museum, saw how rubber was made (from rubber trees), went to a Batik factory (where they make sarongs and scarves) and saw the Batu caves.
After the tour Dave picked us up again and took us for dessert in a trendy part of town. Our brief glimpse of KL impressed us both, despite the humidity and terrible smog. The city is highly developed with beautiful and modern buildings as well as all the modern facilities of a Canadian city. The Malays love their chicken, which is evident by the miriad of KFC restaurants scattered around the city. Apparently Malays eat more chicken per capita than any other country!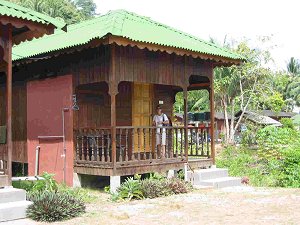 Jen and Dan had decided that they needed to rest for a few days to recuperate from the wedding plannning and to get ready for more travelling ahead. Dave had arranged for us to take an overnight bus to Mersing and a ferry to Pulau Tioman. Tioman Island is the largest East coast island and is a hot spot for Malays to vacation but is still not that developed. After a rather unpleasant bus ride (they guy behind us kept coughing on us all night) we arrived in Mersing. A 3 hour boat ride took us to the spot called Salang, which was a backpackers hang out. Salang had a 1 km beach filled with little huts, restaurants and scuba diving offices. While it was a quiet beach, the place was a bit of a disappointment. The huts were not the cleanest in the world, the food was unimaginative and the beach was nice, but not quite what we expected. Nevertheless, we had a great time during our 3 1/2 day stay.
The first full day on the island we did a hike to Monkey Bay, which was a secluded beach filled with monkeys looking for food. The hike was a 1 hour gruelling trek that confirmed that we were both out of shape. The beach was beautiful and we spent the whole day reading and suntanning. The next day, after a late rise and a leisurely breakfast, we decided to go snorkelling. The snorkelling trip took us to 3 spots where we got a chance to see some beautiful coral and thousands of colourful fish. Often the fish mistook us for other fish and brushed up against us. The jellyfish were everywhere and it did put a bit of fear into us. Nevertheless we built up courage and went anyway which was definately worth it.
The next day we left Salang to return to KL. We had met up with a really nice Malay couple while on the island and agreed to get together when we returned to KL (early November). The trip back to KL was more pleasant than the arrival and we ended up spending the night in KL at the same hotel we were at before.
Now that we were somewhat refreshed, we were ready to take on the next stop- the happening metropolis of Bangkok.

The Chapters of Selamat pagi to Malaysia...
| | |
| --- | --- |
| | My Chapters are coming soon. Please visit again. |