Introduction
4 Sep 2002 thru 31 Dec 2002
It is hard to believe that we are less than 30 hours away from starting the biggest adventure of our lives. Jen and I started planning this 4 month trip to SouthEast Asia and Australia about 1 year ago, just after we got engaged. At first we talked about a honeymoon where we would go away for a pleasant 2 week vacation in Asia. However as we started to outline all the places we wanted to see, the trip grew from 2 weeks to 3 weeks, to 6 weeks, to 4 months. The amazing thing was that we were in constant agreement about wanting to travel for a long time. We both had amazing times when we backpacked to Europe after school and then again when we went to Portugal and Spain together. We knew we were up for another big adventure and were willing to do it at practically all costs.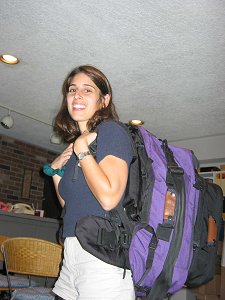 So, for those of you that don't know us, allow me to make the introductions. Jen was born in Hamilton, Ontario Canada. She is a libra and likes shopping, funny movies and peanut butter sandwiches. Jen works in human resources and was working with Siebel Systems right up until 2 weeks ago.
Dan was born in California, but lived most of his life in Ottawa, Ontario Canada. He is an aquarius likes cooking, reading a book and losing money on the stock market. He was working in marketing with Kraft Foods on their confectionary business up until last Thursday.
Jen and Dan got married on Sept 1, 2002, gave up their apartment in downtown Toronto and have been getting ready for their 4 month honeymoon ever since. They are planning to visit 6 different countries in South East Asia for 3 months and then spend 5 weeks in Australia.
The journey begins tomorrow when they fly to London to hook up with their friends Harry and Claire (and probably Sylvia as well). There is a lot to still get done before they reach the plane, and only a few more hours to do it. So this is so long for now, until the trip begins.

The Chapters of Getting Ready...
| | |
| --- | --- |
| | My Chapters are coming soon. Please visit again. |


Copyright © 1999 - 2001 Gypsy Journal