Introduction
5 Sep 2002 thru 8 Sep 2002
Our fist stop on our journey was London. We had originally hoped to fly directly to Southeast Asia, but apparently all flights from Toronto require a stop in Europe or California. We chose London, since Jen had not been there since she was 12 and Dan had never been. Plus, it gave us a chance to meet up with Dan's old high school friend Harry and his girlfriend Claire.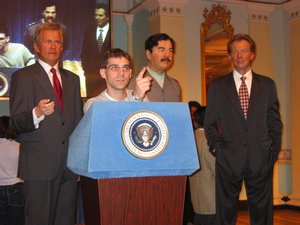 After an overnight flight we arrived in London at 7am on Friday, Sept 6. Since Harry and Claire were both at work, we decided to do the tourist thing and visit the Madame Tousseau Wax Museum. We first stopped for lunch at a local pizza place ($50 Cdn for 2 small pizzas and 2 drinks- not exactly a good start to a budget conscience 4 month trip!) and then headed on to the museum. As you can imagine the place was packed with silly tourist just like us, but we still managed to have a good time. We spent the rest of the day walking around Picadilly Circle and then met up with Harry and Claire at their home. That night we went out for a relaxed dinner at a local Italian restaurant where Dan almost fell asleep at the table.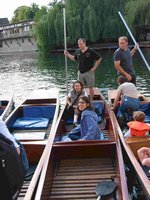 The next day Harry and Claire took us to Cambridge to see the university that they both had attended. After a 2 1/2 hour drive (the traffic was awful) we got a chance to see an amazing town filled with rich history and tradition. Harry and Claire showed us the colleges that they attended and instructed us to stay off the grass at certain places (only a "fellow" can walk on the grass). In the afternoon we went Punting, which is a lot like a gondolla, although the boat is more like the width of a rowboat. Harry was a master punter and managed to weave through the other boats with little effort. Dan, on the other hand, had a lot more difficulty keeping the boat away from the walls. Luckily the boat was insured.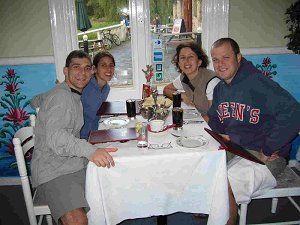 That night we went out "for a curry" and then met up with Dan's old Kraft friend Swoon at the White Horse, also known as the Sloany Pony. Apparently this pub is a big hangout for Sloanies- wealthy young girls who live the high life on their parent's bill. Swoon and Dan caught up on Kraft gossip and everyone left the pub at 11pm, which is when all pubs close in London. The next morning Dan and Jen headed to the airport to catch the 12 hour plane to Kuala Lampur. London was a great first stop, thanks to the hospitality of Harry and Claire. Dan and Jen began to feel rested and ready to take on the next stage in the journey- Malaysia.

The Chapters of Punting & sloany searching in London...
| | |
| --- | --- |
| | My Chapters are coming soon. Please visit again. |