North Island
| | |
| --- | --- |
| North Island New Zealand - New Zealand | |
The beaches are gold sand and the sun is HOT.
We are currently in the Golden Bay near the Abel-Tazman Park. We have finally gotten to some real nice weather in Takara; a town on the north end of the south island. The beaches are gold sand and the sun is HOT. Tom turned a bit red yesterday. They say that the hole in the ozone layer is bigger on the south pole than the north pole, and you can tell. The sun down here is VERY strong. (been using 30 sunscreen every day) Aiden is having a very good time on the beach, with the seashells and seaweeds. He made his first sand castle with the 6 yr old girl next door to where we are camping. She is the daughter of a dutch couple that had just sold thier restaurant, and have been travelling for the last 10 months. We had dinner with them last night and had many laughs about the similar crazy things we have done in the past including cooking in the restaraunt with our childeren on our backs. We had a bit of bad weather here in NZ with lots of rain, and some flooding on the North Island, a bit uncharacteristic for this time of year. So we decided to do most of our traveling on the rain days. We left Wanaka (Sadly) and drove up the west coast. The coast is pretty rugged with rainforest jungle and glacial streams cutting through about every 20 kilometers. We did not stop much on the coast, but we did stop long enough to see the Franz-Joseph glacier that pushes out of the mountians and comes about 5Km short of hitting the ocean. What makes these glaciers seem so strange is that it is 75 degrees out, and whal-la, here is a huge pile of snow. I guess that is what makes them so neat. But we were a bit glacier'ed out, so we drove about 700Km straight to get up to where we are now- in the sun!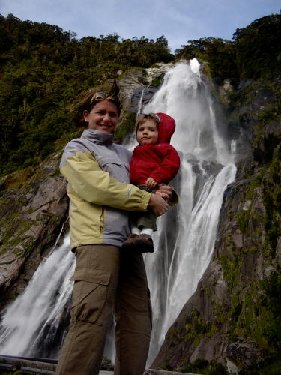 After leaving Milford Sound
After leaving Milford Sound, we drove like crazy, or at least till we had to crash at a roadside campground at Lake Wanaka. The town is a ton like Hood River/Sun Valley, a small tourist town that booms on summer visiters, and really booms during the ski season. Apparently it goes from a 4000 person base to upwards of 40,000 people during the peak seasons. It is also the town nearby to Mt. Aspiring National Park; the second biggest peak in NZ. The lake was blowing about 4.5 all day, and left me aching for some sailing gear. We thought we would only be here a day, and we are going on day three with no real plans on leaving. The town and people are very laid back, with tons of restaurants and the like. The waterfront is incredible and Hood River has a lot to learn from it. It Has a developed waterfront park along the lake all through town, and has lots of open greenspace. We have ran into more Kiwis that vacation here from throughout the N & S Islands than anywhere else (Locals spot or something) No wonder, though. The lake is beautiful with tall snowcapped mountians surrounding it. It is stuffed with huge fish (I am told) and makes for excellent waterskiing, sailing, etc. It is largly undeveloped, but it sounds like that is changing rapidly. Yesterday we made our way into the Nat. Park, for a hike up the Rob Roy valley to see the Rob Roy Glacier. Probably the coolest hike yet! The weather was a bit shifty, and was windy and raining when we got to the parking lot. We crawled about 2 hours up a steeply carved glacial valley with a aqua blue river smashing through it to a flat at the base of 2 huge glaciers. They were both part of the Rob Roy glacier, but split seperately by a rocky peak. From the glaciers were 6 waterfalls that were fed by the snow melt making for quite a site. As we sat there at the top enjoying the view, a flock of Kea birds (half parrot/half hawk) came down and sat with us for about 20 minutes. They are a irredescent green culler with orange under their wings. They are quite catty, and were asking us if we had any spare food, but unfortuantaly, the signs told us not to feed them, so we just smiled and took their pictures like good tourists. Aiden got the free ride on DaDa's back that he was pretty happy about, but I informed him that these guided trips were going to cost him at least 3 lawn mowings each when he grows up. Well, I think next on the docket is to head north up the west coast. We should be getting some of our pictures tomarrow, so we will send ya some in an upcoming email. Let us know if anything earthshaking happes while we are away. So far, we figure that no news is good news!
The best thing since sliced bread
Today we have made the arduous trek to a place called Milford Sound; in the top of the Fiordlands National Park. To get here was a nasty up, then down through glacial cut valleys with aqua blue rivers and glaciers looming over the top of the slate cliffs that gleam in the sun. It really looked as if a chunk of glacier was to fall off at any time and plummet a thousand feet before hitting the rocks below. We dropped about 5000 feet from the summit of the pass all the way down to sea level to get here. What makes this place so spectacular is that the mountains are some of the steepest we have ever seen, with sheer cliffs that go from the ocean up 3000 feet and glaciers perched on top. And the waterfalls.....The waterfalls, fed by the melting glaciers above, are launching off of cliffs everywhere. We got here a bit late today to go on much of a hike, but we did walk around the Sound a bit to get some great views, and stand under one particularly huge waterfall for a few pics. We saw some crazy birds today. We saw a bunch of wild parrots that were chewing on peoples car weather stripping in the parking lots, and some other cooky bird that looked like a cross between a pigeon and a grouse (Stupid as heck, but looked like they would taste good) These birds are making a heck of a racket tonight outside our RV. A sad and strange thing happed last night at the boat dock at Milford Sound. A disgruntled employee sabotaged a tour boat in the sound and pumped water into the fuel tank of a boat. Unfortunately, the tank overflowed and dumped a huge amount of fuel into the marina/bay. It was found today, and the environmental clean up closed the whole area up. They were able to contain most of it, and they used helicopters to bring in experts, equipment, and materials from all over the country to begin the process; today alone they spent $500K in clean up. We are staying tonight at a backpackers lodge that had an amazing mix of global travelers. We have the couple from Holland in a van next to us that have been traveling for 10 months, the Norweigns with a little girl about Aiden's age, the Two Israelis with eyebrow piercings and a good attitude, and a full euro mix to boot. Everyone is awaiting to hear what is next with the clean up. We plan on taking a boat trip around the sound tomorrow morning if the clean up goes well, then we will be heading out to work our way up the west coast. We hope to make it up the north end of the south island to make a huge wine festival on the 14th. We'll see how we do. The RV is working pretty well with the "wee one" and all; Holly sure thinks it is the best thing since sliced bread. We have managed to back into a powerpole and bust off the waste water valve in the first week; not too bad for the first time driving these damn things! We have gotten the hang of driving on the wrong side of the road, though. Watch out when we bet back to the US! Sure to be dangerous for a couple of weeks!