Sharon McRae
India and Nepal 1998 (with kids)

Train to Varanassi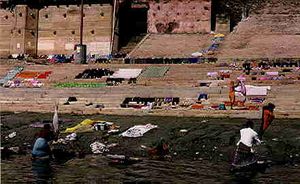 Trains and Tribulations
Our next stop is to be Varnassi, the holy city on the Ganges, which means a farewell to Jack and a ten-hour overnight train trip. We decide to head to the station early, as driving after dark is a test in nerves and the station is 25 kilometers from Agra itself. We bid Jack a farewell and manage to settle ourselves onto a patch of pavement amid the waiting melee. We have a two-hour wait, so the kids take out a ball and begin playing catch. Throughout our travels the kids have been like magnets for local attention. Indians love kids and two blond-haired foreign children are a novelty to be reckoned with. Before long, there is a large crowd gathered around, staring intently at the boys and occasionally assisting in grabbing the overthrows before they hit the open sewer. As the crowd reaches close to the one hundred mark, I am approached by a station official querying if I am having "public disturbance troubles". I assure him that the crowd is very friendly and he wanders off, looking crestfallen at not being given the chance to exercise his authority.
The hours pass by, and soon we are joined by three Japanese students who are Varnassi bound as well. Between all of us, we eventually make it to track number three, where the train is supposed to arrive. We had originally turned down the offer of a porter as we felt confident we could find our own way to our train,;however, after being told numerous different things by numerous different "officials", I decided to splurge on the $1 for a porter. I tried to convince the Japanese girls to hire a porter as well. They were booked on first-class, so couldnít merely follow us to the lowly second-class, but they either didnít understand, or were on a tighter budget. Finally, a train came thundering into the station, on track two (!), and my porter, with all our packs atop his head, gesticulated furiously and ran down the platform. I followed with the kids and Don went to inform the girls of the apparent change of track number,;he never found them, nearly missed the train himself, and we never saw them in Varanassi either. Perhaps there are three Japanese students still wandering the rail system of India looking for a train to Varanassi on track three.
Aboard the train, our porter abruptly shoves four sleeping bodies from our "beds". Now I hadnít expected luxury; but, the whole car is lined with three-tier wooden shelves, barely a foot and a half wide, and most are occupied by at least two bodies. We settle ourselves in using our backpacks as pillows, after convincing the kids that we really donít need the fans that dangle amid a tangle of wires only inches from their noses. We donít stay settled for long. A conductor comes along, and after looking at our tickets, goes through the whole Indian bureaucratic shuffle of nods, grunts, paperwork and a barrage of Hindi...Iím at a complete loss, although I do now have a large collection of papers. As Iím wondering what to do with these, an English-speaking voice comes from the dark a few feet away, " You have been given refund vouchers. As this is a third class car and there is no second-class on this train. You can get your refund at your destination." As I peer through the dark to thank this helpful soul, I realize the voice is coming from a soldier who is lying on his back while holding a seven foot long gun and judging by the ammunition strapped to his body, Iíd guess itís loaded. I thank him profusely and lay back for a wakeful night.
The train rattles through the night, stopping here and there, people getting on, people getting off, and "chai" vendors announcing steaming hot tea at the top of their lungs, until, ultimately, the sun starts to rise. Early morning on the train is a busy time. People crawl out from their bunks where they have been crammed together for hours, to straighten themselves, and the vendors change to suit the hour. Many young children now ply the isles selling neem twigs, which when chewed on, clean the teeth and sweeten the breath. The sparkling white of the Indiansí teeth are testimony to their efficacy. Parcels are re-tied, children arise doe eyed from their nests, parents jabber and hang from the windows...the train comes to life, and we crawl into Mughalserai station, 12 kilometers south of Varanassi.
We pour off the train amid the masses and I attempt to claim my refund voucher. In hindsight this is entirely foolish, but being on a budget, a few extra rupees wonít hurt. I am herded from booth to booth, to office to official, to be finally told that I can be issued a certificate worth a few rupees for the next time I take this same train, once again I smile at the hopeless tangle of Indian bureaucracy. The whole time we are being shadowed by yet another hotel tout, who is set on taking us to a hotel.
Traveling in this country one has two options: stand oneís ground VERY firmly and go where you want or give in to the whims of the touts. There are advantages and disadvantages to both methods. The Lonely Planet guidebook describes the ride to the city as "Öa nightmarish ride along a horrendously congested stretch of the Grand Trunk Road" and the baksheesh system as one of the most complex and inescapable in the country. Our guidebook has been a godsend and generally quite accurate, so the old saying, " If you canít beat Ďem, join Ďem." rings true We give in to the will of the touts and are led away like a few pale sheep. Our taxi driver is a very old man who would be hard pressed to stay aground in a windstorm, his arms so thin they look like pretzel sticks, but he steadfastly navigates the chaos of the Grand Trunk Road. The route is indeed an eye-opener and a breath stopper, as we pass through a never-ending jumble of coal loading depots clogged with black dust and Tata trucks towards the impossibly overloaded bridge across the Ganges.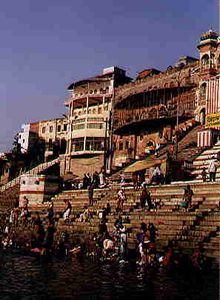 Our destination is (we are informed) the Hotel Buddha, which is mentioned in our guidebook as a decent choice. We arrive at the hotel, and are pleasantly surprised by a lovely old building with a small garden and large verandah. Don trundles off to inspect a few rooms, and returns with a Cheshire cat grin. We check in. Our room here measures thirty feet square, has no windows, the luxury of four beds, an attached bathroom which could house a grand piano, a ceiling which hovers twenty some odd feet above, all at less than $10 a night: sometimes the touts can do good! We know of course that a certain percentage of the price will go to the touts who drove us here, but considering the ease of arrival and the fact that we do not pay for the taxi ride, we havenít done so badly. The bathroom here, although large, is definitely Asian in style, but hot water squirts from the waist-high shower into a new red bucket; weíll do fine. A lazy day of doing laundry and catching up on the correspondence is welcome, as sleep aboard the train was nigh impossible.
The next few days are spent exploring the holy city and its surroundings with our self proclaimed servant, a wizened old rickshaw driver cum yoga instructor. Each day this ancient man would patiently await our arrival, his body twisted into the most amazing contortions. We lounged on the verandah and met a fellow from our home province, ate well and stayed cool whenever possible as the temperature soared to the high thirties.
Funerals and Firearms
Varanassi is a fascinating place. The old city near the Ganges is a labyrinth of tiny alleyways; every turn brings a new sight, sound and smell. The alleyways wind down to the numerous ghats, which are teeming with life. Dasaswamedh Ghat is the main ghat for ritual bathing and laundry, a constant hub of activity. An early morning boat ride down the river allows us to experience the magic as the holy Ganges comes to life. Women bathing wrapped in their bright saris, old men meditating peacefully atop stone walls, fishermen preparing nets for the dayís work, holy men performing water borne rituals and beggars plying their trade are but a few of the activities of the ghats. Our exploring takes us to the most sacred ghat, Manikarnika, adjoining the Jalsain ghat, burning ghats, home to the intricate funeral rituals.
Funerals, are like most other activities in India, startlingly public. The cremations take place on the riverbanks with the ashes being swept into the holy river. Varanassi is the favored site in all India to die, ensuring entrance to heaven and completion of the series of rebirths. The burning ghats are busy places, and it is virtually impossible to explore the streets of Varanassi without passing many a body making this final journey to the holy Ganges
We also explore Saranath, the site of Lord Buddhaís first sermon after his enlightenment. This site is absolutely ancient, dating from about 500 BC. Many artifacts are displayed in an excellent Archaeological Museum in Saranath. The site itself has that otherworldly serenity that seems to permeate Buddhist centers; saffron-robed monks wander the park-like setting amid ancient stupas and shrines, chanting reverberating in haunting monotony, surreal.
Back in Varanassi we attempted to find the "golden temple", which is somewhere in the maze of old city streets, but after getting hopelessly lost we seek a cold drink in a restaurant. I notice that there is a rooftop terrace, so I decide to climb up the seven stories and see if I can spy the illusive temple. Atop the roof I am pleasantly surprised to find the temple in its entire golden splendor in the back yard! I am aiming up for what would surely have been a great shot, when the click of a rifle being cocked sounds from behind me. As I stand frozen, a voice instructs me that pictures of the temple are forbidden today, and I turn to see four khaki-clad soldiers, eyes glued to their shotguns and me. I know when Iím beaten, so my camera goes quickly back into my bag, and I scamper down the stairs atop rather shaky legs. We find out later that they are anticipating clashes between the Hindus and Moslems, and security is tight. I regret the loss of the picture, because the sight of the holy temple clad with close to one ton of gold plating was stupendous...however, the sound of the rifle click echoes still in my ears.
One afternoon, when the temperature on our shaded verandah climbs to 35 degrees directly under a fan, we decide to visit one of the four-star hotels for a swim. The cost for four of us to laze around the pool, is more than a night at our hotel, however, the treat is well received by all, a small price for such luxury. We return to our hotel after dodging a man with performing monkeys dressed up in full costume vying for the rupees of the well-heeled guests. Our final evening in Varanassi is spent chatting on the verandah with the other guest from Canada.


Copyright © 1999 - 2001 Gypsy Journal